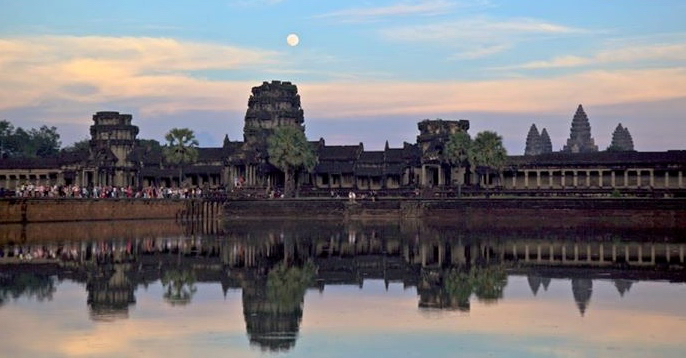 Discover the wonders of Siem Reap, artistic Battambang, majestic Phnom Penh, and the seaside village of Kep on this special set departure Tell Tale trip around Cambodia for solo travellers.
Join a select group of like-minded people to visit the magnificent remains of the Khmer Empire and discover modern Cambodia from the locals themselves. You'll marvel at the beauty of the temples of Angkor Wat, Angkor Thom and Ta Phrom, and feel like a real explorer in the jungle-clad remains of Beng Mealea. You'll have food experiences galore, enjoying street food and restaurant meals, visiting markets, gardens and a pepper plantation – you'll even get to cook something delicious yourself. You'll also get to trek into the jungle and meditate with a monk. And at the end of it all, you'll hop over to the wonderfully-named Rabbit Island for some rest and relaxation.
There is no single supplement on this small group tour and you'll have your own room throughout (perfect for when you want a bit of "me time"). The maximum group size is 11, but we may close this trip with a smaller number, so early booking is advised.
This trip was recommended by Wanderlust magazine in their article, 15 of the Best Group Trips for Solo Travellers.
---
Day 1/Sunday 10 November
Fly from London Heathrow on a direct international flight to Bangkok with Thai Airways or British Airways. If you don't live in the UK, you are welcome to arrange your own flights; feel free to contact us for advice.
---
Day 2/Monday 11 November dinner (meals included in the tour cost)
Land in Bangkok and connect to a flight to Siem Reap, where the famous Angkor temples are to be found. From there it's a short drive by private minibus to a lovely boutique hotel in the older part of the city. You'll have time to settle in and relax before a delicious welcome dinner. Depending on flight timings, there may even be time for a dip in the stunning outdoor pool.
o/n La Residence WatBo
Day 3/Tuesday 12 November breakfast
Today we'll explore the main temples of Angkor with a private guide. Within the Angkor Archaeological Park (a UNESCO World Heritage Site) are the magnificent remains of the Khmer Empire's various capitals, the earliest dating from the 9th century. Angkor Wat, and Angkor Thom, with its beautiful Bayon Temple, are the most famous, and you may well recognise the sprawling Tha Phrom, still partly overgrown with giant fig trees, as the stunning backdrop to Lara Croft Tomb Raider.
o/n La Residence WatBo
Day 4/Wednesday 13 November breakfast
Today we're heading further afield to the jungle-clad remains of Beng Mealea. A firm Tell Tale Towers favourite, you can't fail to feel like a true explorer here! The atmosphere here is so tranquil, with abundant birdlife and towering trees.
o/n La Residence WatBo
Day 5/Thursday 14 November breakfast, lunch
Time to get a taste for Khmer food! We'll head out of Siem Reap into the countryside, where we'll learn the secrets of Khmer cuisine. Budding chefs can try their hands at preparing the dishes before we all feast on your efforts. After lunch we'll head to the 'pink temple' of Banteay Srei, the Citadel of Women. Set in a beautiful, peaceful place, this small sandstone temple is decorated with intricate carvings.
o/n La Residence WatBo
Day 6/Friday 15 November breakfast, (and lunch if you take the optional excursion)
You can spend today as you please – relax by the pool, revisit your favourite temples, or pop to the Made in Cambodia handicraft market which is a great way to support local artisans. Or you can take the following optional excursion (supplement applies):
It's an early start (but worth it) for a boat trip to the enormous Tonle Sap lake, a unique ecological wonder and UNECSCO biosphere. This day is run with Osmose, an NGO. You'll be heading to a bird sanctuary named as no less than 'the single most important breeding ground in Southeast Asia for globally threatened large waterbirds'. Birds of prey and waterbirds like the Painted Stork, and Greater and Lesser Adjuncts will be easy to spot, and your private guide will point out many others to you. You'll eat lunch locally and meet the people who live on the lake, some of whom are fishermen and crocodile farmers. They'll tell you how they live their lives and how they handle the threat of water hyacinth (much scarier than it sounds, trust us!). The lake shoreline waxes and wanes over the course of the year, so some of the people are nomadic, towing their homes along the water.

o/n La Residence WatBo
---
Day 7/Saturday 16 November breakfast
Off to Battambang today, in the southwest. Originally a centre for the arts, Battambang changed during Khmer Rouge times. These days it is enjoying something of a renaissance and there's plenty of art to be found. In the evening we're off to the circus, which is a fantastic initiative for young Cambodians and a spectacle that you are sure to talk about for a long time to come. You'll be staying at The Sanctuary Villa, with its lush gardens and beautiful pool.
o/n The Sanctuary Villa
Day 8/Sunday 17 November breakfast, lunch
The sacred mountain of Phnom Sampeau calls today, a site of pilgrimage where you'll learn more about the Khmer Rouge at a moving memorial to their victims. Once you reach the summit you'll discover a complex of temples, from which you can take in the glorious view. After a delicious local lunch, we're off to visit a village and a family-run fruit farm by boat, returning at sunset (photographers take note!).
o/n The Sanctuary Villa
---
Day 9/Monday 18 November breakfast, dinner
Off to the city of Phnom Penh for a food tour with a stop on the way at the sleepy village of Ondong Rossey, the birthplace of the red pottery of the Kampong Chhnang province. Once you've settled into your hotel in Phnom Penh, – the imaginative TeaHouse, which combines classic and modern urban design with a cool Asian twist – it's time to explore the city by night. Take your pick of the delights on offer at the local market – fried tarantula, anyone?* – and then dine at a local restaurant before sampling delicious traditional Khmer desserts. *There are plenty of more palatable morsels to choose from.
o/n TeaHouse
Day 10/Tuesday 19 November breakfast, lunch
Rickshaws at the ready – we're off to explore Phnom Penh with our private guide today. You'll see the main sights, such as the the Royal Palace with its Silver Pagoda and diamond-encrusted Buddha. Later we'll visit an initiative that helps young people from disadvantaged backgrounds train in traditional Cambodian arts. Finally, we'll go to the National Museum, which houses a myriad of amazing Khmer art and sculpture.
o/n TeaHouse
---
Day 11/Wednesday 20 November breakfast
Morning at leisure. Have a lie in, or explore your surroundings. If you're interested in visiting the notorious Khmer Rouge's Killing Fields, you could take a local taxi this morning. Later, we'll be heading to the seaside to stay at the boutique resort of Knai Ban Chatt in Kep, which offers stunning views and understated elegance. The rest of the afternoon is your own to spend as you please – the infinity pool is very inviting and we love to simply sit and gaze out from the end of the private jetty. This evening (and the following evenings), there will be an opportunity to have dinner in one of restaurants serving delicious seafood (there will be vegetarian and vegan options too).
o/n Knai Ban Chatt
Day 12/Thursday 21 November breakfast
It's a great day for keen photographers as we set off early to the fish market in nearby Kampot. As the sun rises, you'll see the fishermen return to the shore with their catch to sell at the market. Then it's time to explore the faded grandeur of the area, discovering how life was in times gone by. You'll also get to try different flavours of pepper at an organic pepper plantation – which also happens to make the perfect lightweight souvenir.
o/n Knai Ban Chatt
Day 13/Friday 22 November breakfast
Pop your swimming costume in a day bag – but don't forget to wear your walking shoes. We're off to Kep's crab market first and then onto Kep National Park for a spot of jungle trekking, followed by some meditation with a monk. Later on we'll go out to sea, to the lovely coconut-fringed Rabbit island, just a short boat ride away.
o/n Knai Ban Chatt
---
Day 14/Saturday 23 November breakfast
Time to do as you please at the boutique beach resort and pack up. Later on today, it's a drive to Phnom Penh and a short flight to Bangkok or Hong Kong with an 'official connection' to your flight back to London Heathrow.
Day 15/Sunday 24 November meals on plane
The wheels will hit the tarmac at London Heathrow on Sunday morning.
---
This special set departure 15-day tour costs £2,250 per person excluding flights/from £3,000 per person including flights, accommodation (your own room with ensuite), activities/excursions, private transfers and meals as specified. There is no single supplement. Please allow approx overall £75-100 per person for entrance fees payable locally at the site office on the day (we recommend buying a 3-day pass at Angkor). Day 6 optional excursion with NGO costs £135 per person, including entrance fee.