---
Welcome to Tell Tale Travel; we specialise in holidays with a difference and insider experiences. Making adventures accessible to more people. Your holiday will be packed with experiences that will give you plenty of tales to tell when you get home and memories to cherish forever.

Let us take you away from the tourist trail and into the heart and soul of your destination. You will meet local people who don't work in the tourism industry. As well as rich insider experiences you won't find elsewhere, Tell Tale trips are well balanced and paced.

Most Tell Tale Travel trips are private tours for couples, families or friends travelling together (i.e. you will not be travelling in a group) and can be taken on dates convenient for you and at your own pace. However, we do run a few special set departures for those who like to travel with others and for solo travellers to experience travelling the Tell Tale way. Whichever trip you take, you can rest assured your travel is respectful of local people and places and you will come home with new friendships and memories and stories that will last a lifetime.

Enter your email address below to subscribe to our newsletter, Tittle Tattle. Each quirky missive is packed full of interesting articles, insider tips and exclusive offers, plus a fun competition. What's not to like?

"We were delighted to find your company, we feel like we are travelling rather than simply being tourists. Our hosts were delightful – so hospitable. The trip was a perfect combination of active and relaxing...and the price quoted on your website was the price we paid. You are the only travel company that has done that - usually I end up paying far more than indicated when I make the initial enquiry!"

---




---

Exploring the Pantanal and coming face to face with jaguars.




---

What's a Tell Tale family adventure really like? Find out more whether your family is 3 or 20!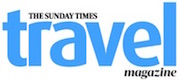 "Tracking jaguars in the wild..Stay at the camp run by the BBC wildlife crew's favourite guide, Ailton Lara - on a 16-day trip with Tell Tale Travel"


---

"If you'd like to explore the country while learning to do justice to its culinary traditions, Tell Tale Travel organises tours that are, basically, foodie master classes on the move. You'll be taught family recipes in working kitchens, visit organic farms, go fishing and learn how to forage. The Lemongrass Trail is the tour to beat all tours, covering Bangkok, the central plains, the northeast and the Andaman Coast."