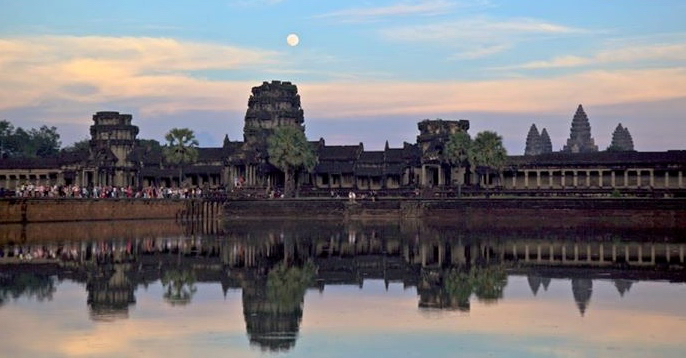 Discover the temples, sights and sounds of both Thailand and Cambodia. This trip is 'Tell Tale light' which means it is less immersive than our other trips, but still with the local insight and flavour you'd expect on a Tell Tale tour.
This is a private tour which you can take on dates to suit you. You will be met in each place and looked after by our professional guides, drivers and unique network of local people.
Highlights include classic temples, lush green scenery, local people and amazing birdlife. You'll start off in Bangkok then take a boat to Ayutthaya, the ancient capital of Siam. Your onward journey will again be leisurely, this time on an overnight train winding north through the ricefields of Thailand, where you'll explore Chiang Mai. Then it's onto Siem Reap in Cambodia based at a beautiful boutique hotel as you explore both the famed temples of Siem Reap including Angkor Wat and Angkor Thom and the still jungle-clad temples further afield including Tha Phrom and Beng Melea.
---
Day 1 Recommended Sunday
Fly out of London Heathrow with Eva Air or Thai Airways on a direct flight to Bangkok. Regional departures are possible. If you don't live in the UK, we may be able to arrange flights, or you can arrange your own.
Day 2
You will be met at Bangkok and driven in a private air-conditioned car to the centre of Bangkok. Time to settle into your room at the beautiful boutique inn, converted from the owners' traditional antique Thai mansion house. It's a delight in this bustling city of high rise modern buildings. Time to settle in and have a dip in the pool. In the evening, your driver will take you to an idyllic restaurant set in gardens which will give an idea of what Bangkok was like in the olden days.
Day 3 breakfast
One of our expert guides will pick you up and take you on a private tour of Bangkok including the main sites, the Grand Palace, the Temple of the Emerald Buddha, Wat Pho and Wat Arun. The day will be at a pace to suit you and can be customised. This evening, we recommend you take a short walk to a lovely restaurant nearby (details in your Tell Tale pack which contains guidelines, maps and tips).
---
Day 4 breakfast, lunch
This morning, you will travel on a boat from Bangkok to Ayutthaya in the Central Plains, the UNESCO-protected capital of Ancient Siam. You'll arrive at a boutique hotel in Ayutthaya.
Day 5 breakfast, lunch
Morning sightseeing with private guide in the historic city of Ayutthaya. Then you'll visit a local village where you will meet the village headman and his wife and have lunch with them. The surrounding paddyfields are beautifully lush and a haven for birds. In the evening, you will take a train from Ayutthaya to Chiang Mai. Sit back with a cup of tea (or something stronger) and enjoy the scenery of rice fields and people winding down their work for the day before you bed down on the overnight train. Timings may vary according to which train which we can secure the best berths i.e. alternatively you may be in the dark tonight and see more activity in the morning.
---
Day 6 lunch, dinner
Morning arrival in Chiang Mai where you will be picked up and driven to the countryside and arrival at a lovely private home. Welcome lunch with your gracious hostess. This is in a rural setting and perfect for nature lovers. If you would prefer to be based more centrally, you can stay at boutique inn or hotel in the city.
Day 7 breakfast
Your hostess will take you for a stroll around the local area, a great opportunity to learn about the real Thailand. Later, your driver will pick you up and take you into the centre to have a look around the bustling market full of crafts made by the hilltribe folk who live in the surrounding villages. This is not Chiang Mai's famous night bazaar, but a different once-a-week market. We recommend having dinner at a riverside restaurant (your driver will wait for you and take you back).
Day 8 breakfast, dinner
Guided sightseeing around the ancient city and temples of Chiang Mai. We recommend taking a pony and trap around the ancient city. You'll also visit the handicraft villages dotted around the city where you can see how the locals make them, it is also possible to buy souvenirs direct from co-operatives.
Day 9 breakfast, dinner
Visit to the nearby Mae Sa valley, you will stop at an orchid farm before exploring Queen Sirikit Botanical Gardens. You'll also visit to a hilltribe village where you will see how they grow their crops and make their traditional costumes. This is a private visit to a small village we know well, not a tourist experience of turning up in a coach taking photos of a 'human zoo'. If you are looking at any other holiday which includes a visit to a hilltribe, do ask questions of how it is run, and be particularly wary of any excursion involving 'long-necked' women.
---
Day 10 breakfast
You'll be driven to Chiang Mai airport from where you will take a short flight to Bangkok and connect to another short flight to Siem Reap in Cambodia. You'll be met at Siem Reap and taken to Shinta Mani Shack (previously called Shinta Mani resort), a boutique hotel located in the old quarter. You'll have time to settle in and have in the pool, before you decide whether to have dinner at the hotel or at a restaurant.
Day 11 breakfast
Day with private guide and car to explore the main temples of Angkor. Considered an Eight World of the World, the Angkor Archaeological Park is an UNESCO heritage site, containing magnificent remains of the different capitals of the Khmer Empire, dating back to the 9th century. The most famous are Angkor Wat and Angkor Thom with its beautiful Bayon Temple.
Day 12 breakfast
Day with private guide and car further afield to some of the lesser-visited temples of Angkor. Wandering amongst the jungle-clad remains of the Khmer temples, it's like being in a movie set. Well..they may have been in a film or two. The sprawling Tha Phrom, still partly covered by big fig trees was a stunning backdrop in Lara Croft Tomb Raider, although our favourite temple at Tell Tale Towers is Beng Mealea. The atmosphere is serene, with towering trees and birdlife.
Day 13 breakfast
You'll be taken to visit a local village in Siem Reap, which we support with the Shinta Mani Foundation. Afternoon at leisure to enjoy the pool. Or of course you could go off to explore Siem Reap on your own steam. Tell Tale Tip: We recommend buying a 3-day entrance ticket to the main sites on Day 11 (same price as two separate tickets for Days 11 and 12) and use it to re-visit the most famous temple Angkor Wat, it's just a tuk tuk or short taxi ride away, it is spectacular at sunset. We also recommend visiting the artisanal market.
---
Day 14 breakfast
Short transfer to the airport for your short flight to Bangkok and connect to your direct flight from Bangkok to London Heathrow. If you started your trip on a Saturday as recommended, today will be a Sunday.
---
Optional Extension
Day 14 breakfast
Early morning pick up and boat trip on the vast Tonle Sap lake, a unique ecological wonder and UNECSCO biosphere. You'll head to a bird sanctuary which has been called 'the single most important breeding ground in Southeast Asia for globally threatened large waterbirds'. You'll easily see the birds of prey of course and waterbirds such as the Painted Stork and Greater and Lesser Adjuncts, your local guide will spot many of the others for you. The people who live on the lake are fishermen and also have other initiatives (like the boy in the photos with his baby crocodile). You'll have a local lunch and visit a community project and learn how the locals handle their lives, including the threat of the water hyacinth. Scarier than it sounds! As the huge lake changes size at different times of the year, some of the people who live on the lake are nomadic, they tow their homes along the water using boats.
Day 15 breakfast
Fly back to Bangkok to connect to your direct flight back to the UK. If you started your trip on a Sunday as recommended, today will be a Sunday.
---
The 14-day private tour costs from £2,295* per person, based on two adults sharing a private tour. Prices include direct international flights with Thai Airways or Eva Air to Bangkok, flights from Chiang Mai to Bangkok, flights between Bangkok and Siem Reap, accommodation, private guides, private transfers and meals as specified. Please allow approx £70pp for entrance fees payable on the ground, as well as $30 (USD) for entry to Cambodia.
*Price applies as advertised on most bookings, but travelling at certain times, particularly August and Christmas, may involve extra costs. Early booking is advised. It is possible to secure your booking with a deposit.
Optional Extension including an extra night's accommodation and birdwatching, boat trip excursion on Tonle Sap costs £250 per person.